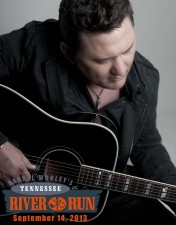 Friends and Family,
We are excited to announce that we have been chosen to perform at this years Tennessee River Run hosted by Darryl Worley on September 14th in Harden County, TN. Artists performing include Ronnie Milsap, Brandon Lay, Donica Knight, Jami Grooms, and of course, Darryl Worley.
Tennessee River Run is held each year to raise money for The Darryl Worley Foundation, a 501c3 public benefit corporation organized in 2002 to help serve the needs of the people of Hardin and McNairy Counties in West Tennessee and the surrounding areas of West Tennessee, Northwestern Alabama and Northeastern Mississippi. The Darryl Worley Foundation, Inc. also supports St. Jude Children's Research Hospital, Ayers Children's Medical Center, Le Bonheur Children's Medical Center and the Cystic Fibrosis Foundation. In addition, the Darryl Worley Foundation, Inc. helps fund and support the newly created Darryl Worley Cancer Treatment Center.
We are excited for this opportunity and extend the biggest thanks to Darryl and his team for allowing us the opportunity to perform in such talented company!
I hope to see you out,
Jami